The project under the working name GHELU is the biggest thing I ever even thought about. Over the years most of my energy has gone into creating the world, which is also named Ghelu for the time being.
Disclaimer: The words and especially names are freely invented by me out of various reasons. I have written several words in bold font to distinguish them from the "normal" world. Those bold font words descripe something inside the world I am creating here and have thus no direct connection to reality. I hope this clears any misunderstanding up front. Best example would be the word manic, which originates from the term Mane or Manes, describing a human in my world, not a real life term about a mental condition.

The name: Ghelu actually is diverted from the the indoeuropean name for "Tortoise", ghel|u. The word itself exists in many versions, probably because it somehow seems familiar to some fantasy writers or players. It is only a working name since I find it extremely unfitting for a world that can basically be respected by the readers. Also I have no reason to make the myth of the world being on the back of a giant tortoise any more widespread than it already is. The Ensani name for it – more about them later – is Jahan, a word I seem much more fitting. The Budmen name Worult has widespread use in the basic name for it, world.

The world itself is a planet surrounding a dual star system. The stars are named Lesul and Raisul, circle each other and have a combined mass equal to Sol. The world is part of a dual planet system and has no moons.
There is a third star in the distance, center of a nearby star system, which is called Skaisul. It's of great mythological importance for the inhabitants of Jahan.

The general level of development throughout the world is around the turn of the 16th century. However there is a timespan of 500 years basically unaccounted for. While most areas still use swords as the main melee weaponry, the gunpowder-using handguns are gaining ground fast. Most sieges and naval battles are already performed with heavy guns, so-called bombards.

The main area I concentrate my developing efforts on now is the Greater Harland.
I have to beg forgiveness for the drawing, it's lousy, but I'm really no artist.
The Greater Harland breaks down into the area commonly known as Harland.
Within the Harland lies the Urland, the mythical origin of the Mankind.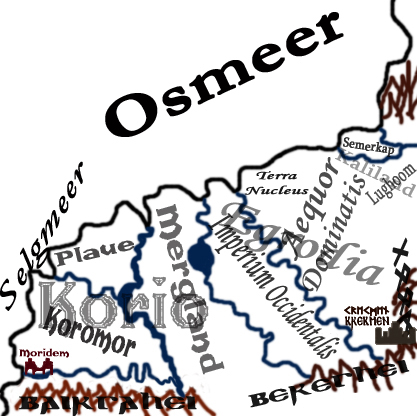 Within the area of Korio as seen in the map above there lies Koromor which I worked out in a little more detail for the moment.